ABOUT RT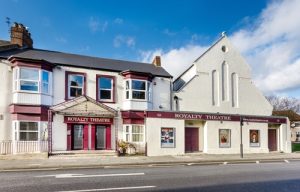 The Royalty Theatre was established in 1925 and is the only venue in the city of Sunderland providing regular dramatic productions; all of which are produced by our amazing volunteer members. Information on how to become a volunteer with us is available on the Join RT page.
Each season (August – June) we stage 6 main stage productions, our annual family pantomime, and productions in our studio theatre.
The theatre spaces are also available to be hired by outside parties for performances, productions and experiences. In the past we have hosted events ranging from school performances, variety performances and concerts. If you are interested in hiring the theatre please contact: [email protected].
History of The Royalty Theatre
The Royalty Theatre has been providing theatre and entertainment to the City of Sunderland since 1925. To look through the records from our past click here.
Find Us, Parking and Accessibility
The Royalty Theatre is situated in the heart of Sunderland, just off Chester Road opposite the Stumble Inn pub (formerly the Royalty pub). The nearest Metro station is University, just a three-minute walk from the theatre. Our address and map of our location is available on our Contact page.
PLEASE NOTE: It has recently been announced that the current Network Rail maintenance works between Park Lane and South Hylton Metro stations are likely to continue into 2023. This means there will be no service running to University (The Royalty Theatre's closest Metro Station). They are running up to Park Lane if travelling southbound, which is just a ten-minute walk from the theatre. Please allow extra time for your journey to The Royalty Theatre and for further information or assistance planning your journey please visit nexus.org.uk
In the immediate vicinity of the theatre there is only street parking. However, two University of Sunderland car parks are currently available to patrons – at Precinct Hall (Wharncliffe Street), and at the Technology Park (opposite the entrance to the University's Forster Building on Chester Road). Parking is free at Precinct Hall and £1.60 per hour at the Technology Park. Please note that prices and availability of these car parks may change at any time without knowledge of the Royalty Theatre – please ensure that you abide by all regulations set out by the University when using these facilities.
We have endeavoured to improve disabled access to the theatre. A ramp is installed to the front of the building. A limited number of wheelchair spaces are available in the auditorium (seats B14 and D14).
Allergy Advice: Our bar does serve various snacks (including crisps and nuts) throughout both show nights and Social Nights, however, we are aware of how serious allergies can be, so if you have any concerns regarding an allergy prior to attending a performance or Social Night, please don't hesitate to contact us and we'll look to ensure you can enjoy your expereince with us safely and without worry.
Social Nights and Charity Nights
Friday is Social Night at the theatre, where members, their guests and any prospective members can meet in our fully-stocked bar for a drink and a chat in an informal, friendly atmosphere. The bar is open from 8:30PM with entertainment provided! Our Social Nights will resume on January 27th 2023.
The first night of each production (excluding the pantomime) is Charity Night. The tickets are given, free of charge, to local charities to give or sell to their members. The charity may either give the tickets to their own members as a regular social event or sell them and keep the profits for their own organisations. If you would like to receive charity night tickets please contact us via the Contact page.
Executive Committee
The Royalty Theatre belongs to the members. However, the day-to-day running of the theatre is the responsibility of the Executive Committee and Trustees. If you have any feedback, issues, questions or suggestions, please feel free to raise these issues with any member of the Executive who will be able to raise these at our monthly meetings.
Officers
Chair – Andrew Barella
Vice Chair – Abbi Todd
Treasurer – Caroline Chapman
Secretary – Muriel Waine
Artistic Director – Helen Bowie
Trustees
Corinne Kilvington
Peter Reynolds
Muriel Waine
Committee
John Appleton
Julie Carney
James Errington
Alex Goodchild
Beth McAneny
Anna Snell
Nikki Slack
Emma Thompson
RT Policy Notice
The Royalty Theatre operates a "zero tolerance" attitude to all forms of abuse, therefore such behaviour or the use of inappropriate language causing distress and/or constituting harassment of staff, members or patrons will not be tolerated and will lead to expulsion from The Royalty Theatre and any of its events and activities.